Below you will find the answers to some of the most frequently asked questions regarding Calibreath. If you do not find the answer to your question and would like more information, please contact us by phone or email.
How does Calibreath work?
Thanks to the unique technology in Calibreath, and the combination of sub-atoms and essential oils, you can experience the positive and scientifically-documented qualities that nature provides, without being outdoors.
What is the size of the Calibreath?
The size of the Calibreath is 170x170x170 mm and the weight is 950 grams.
How much does the Calibreath cost?
For price and purchase information, please contact us here.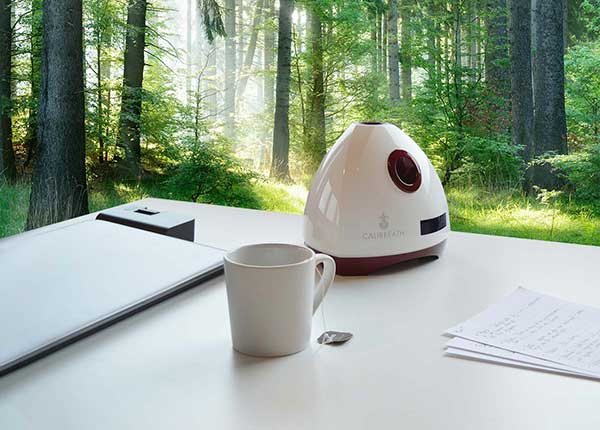 How big an area does Calibreath cover?
About 20m2.
How do i become a retailer for Calibreath?
Contact us here if you want to become a retailer.
What does the Calibreat´s extrakt contain?
It contains essential extracts from: rosemary, cypress tree, cedars, lavender, green mint, and pine tree.
is Calibreath safe to use?
Calibreath is totally safe to use. Calibreath has been registered and approved by the American Food and Drug Administration, FDA, as a "Medical Class 2 device".
Could the smell of Calibreath be an allergen?
Calibreath delivers small molecules and sub-atoms that mimic the natural environment, and these will therefore not irritate the bronchi or cause headaches. If you are allergic to any of the substances on the ingredient list, please refrain from using the product before you open the package.
How do i refill the extracts
In the Calibreath manual you can read about exactly how to refill and change the refill container.
Why do i have to change the plastic container every time i need to refill?
To always ensure the same high quality of the air that Calibreath emits on the first day of use, it is necessary to change the plastic container when refilling. The used plastic container can be recycled as plastic.
Whats in the box?
The box contains a user manual, an adapter, botanic oil and the Calibreath device.